The SIG is a Special Interest Group of the International Association for the Study of Pain®, the world's largest multidisciplinary organization focused specifically on pain research and treatment. 
The main event sponsored by the SIG is the biannual International Symposium on Pediatric Pain. The International Symposium on Pediatric Pain (ISPP) is the premier international, interdisciplinary conference on pain in infants, children, and adolescents. More information on ISPP and past ISPP events can be found here.
We are delighted to announce that the 14th International Symposium on Pediatric Pain will be held in Halifax, Nova Scotia, Canada, co-hosted by the Center for Pediatric Pain Research and Solutions for Kids in Pain, in partnership with Discover Halifax. October 1-5. 2023. The 2023 International Symposium on Pediatric Pain (ISPP) theme is Better Together, Innovation Through Partnerships. Under the direction of the Scientific Program Committee, led by Jenifer Roberts and Julia Vagar, there will be rigorous science, real-life stories, and knowledge sharing to build capacity in the pediatric pain community. We hope to foster partnerships and innovation through joint learning of the best international research. For more info, go to https://ispp.joyn-us.app/ or for any questions please contact the conference team at ispp@iasp-pain.org. Submissions for symposia, workshops, and panel discussions are now open, with a deadline of 12 January 2023: The submission portal to be opened up by the end of November! In the mean time, please visit https://ispp.joyn-us.app/pages/submission-guidelines for details on submission requirements. 
The call is now also open for invitations to host the 15th International Symposium on Pediatric Pain in 2025 – see here for more information
The objectives of the Pain in Childhood SIG are to
promote education about pain in children,
share relevant information about children's pain control,
advance our ability to alleviate children's pain from an international and interdisciplinary perspective, and
encourage research, particularly multicenter studies, and studies which focus on unique problems of pediatrics, including newborns.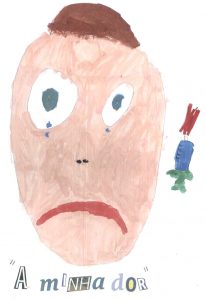 Image at left: One of the prize winners in the 2017 drawing contest sponsored by the Portuguese Association for the Study of Pain (APED). This contest has been active since 2005, giving recognition to drawings by hospitalized children that reflect their personal perspectives on pain. João, age 7 years, has undergone several surgical interventions to correct a congenital malformation. His drawing represents the pain of venous access. ("A minha dor" = my pain.)
The new bylaws, effective from 1 January 2018 can be found here.