The SIG is a Special Interest Group of the International Association for the Study of Pain®, the world's largest multidisciplinary organization focused specifically on pain research and treatment. 
The main event sponsored by the SIG is the biannual International Symposium on Pediatric Pain. The International Symposium on Pediatric Pain (ISPP) is the premier international, interdisciplinary conference on pain in infants, children, and adolescents. More information on ISPP and past ISPP events can be found here.
The most recent, 12th ISPP took place in Basel, Switzerland from 16 – 20 June, 2019!

IMPORTANT CHANGE TO 13th ISPP: The exceptional disruption caused by the COVID-19 pandemic has led the ISPP Scientific Committee and Pain in Childhood SIG Executive Committee to make the pragmatic decision to defer ISPP2021 to Thursday 24 – Sunday 27 March, 2022.
Fortunately, the Local Organizing Committee has been able to secure the same venue, The Cordis Hotel in Auckland, New Zealand.
Thursday 24 March 2022 will continue to be the Education Day while Friday 25 to Sunday 27 March will be the dates for the Symposium. See http://www.ispp2022.nz  for further information.

The objectives of the Pain in Childhood SIG are to
promote education about pain in children,
share relevant information about children's pain control,
advance our ability to alleviate children's pain from an international and interdisciplinary perspective, and
encourage research, particularly multicenter studies, and studies which focus on unique problems of pediatrics, including newborns.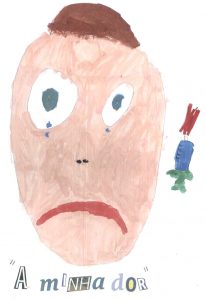 Image at left: One of the prize winners in the 2017 drawing contest sponsored by the Portuguese Association for the Study of Pain (APED). This contest has been active since 2005, giving recognition to drawings by hospitalized children that reflect their personal perspectives on pain. João, age 7 years, has undergone several surgical interventions to correct a congenital malformation. His drawing represents the pain of venous access. ("A minha dor" = my pain.)
The new bylaws, effective from 1 January 2018 can be found here.